Touch Screen Wireless Intruder Burglar Home Alarm White Solution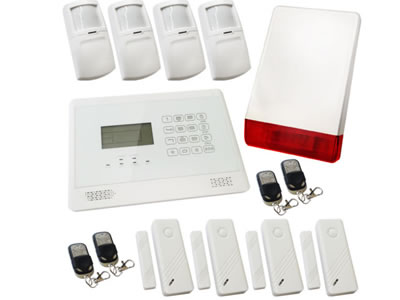 Touch Screen Wireless Intruder Burglar Home Alarm White Solution
Special price: [ $270.00 ]
M2E Touch Screen Wireless Intruder Burglar Home Alarm White Solution
1.) 99 Wireless Zones (1 Sensor per zone),4 Wired zones.
2.)Programmable 12 volt output, Arm, Disarm and Check status by text (password required)
3.)M2E.Control your alarm by app for iPhone or Android. App called 'M2E' can be downloaded from App store free of charge
if you want to know wholesale discount price,please contact us by e-mail.

Note:
If your shipment is delivered to a remote area,this charge will be added to your shipping cost.Checking your area is a remote area or is not a remote area on the website:http://remoteareas.dhl.com/jsp/first.jsp
M2E Wireless Burglar Alarm GSM Touch Screen Intruder House Sentry white Solution Specifications:

Features include
EN and CE approved 433Mhz alarm system, with the most amazing UK technical support, we don't hide behind an email address, call us on the phone for advice and support before and after you buy from us....
Make the right choice and buy right first time!
99 Wireless Zones (1 Sensor per zone)
4 Wired zones
LCD display with time and date
Amazing voice prompt
Auto arm and disarm timer settings
Dial 6 numbers with alerts
Text 3 mobile phones
Programmable 12 volt output
10 Second message record option
Arm, Disarm and Check status by text (password required)
Entry and Exit delay
Use the panel to make emergency calls
One touch arming
Programmable partial arm
Easy coding system
Remote control from phones and mobiles (password required)
Power failure alert (by Text message)
Built in Backup battery
About this product
The Sentry Pro alarm solution uses the latest design of components with outstanding functions and features. For example, the Sentry Pro system enables you to enter pre set times for automatic arm and disarm therefore not needing to use a key fob or enter commands on the control panel. Sending a text message to the alarm system enables you to remotely arm the alarm, disarm the alarm or check the current status of the alarm. This feature is very ueful if you leave the property and cannot remember if you armed your alarm or not... by sending a quick text you will get a reply from the alarm confirming the status.
When using the Home Arm feature you can configure each sensor to be active or in-active, this means that should you want all PIR active downstairs and perhaps a PIR in a bedroom not active at night you can preset the feature by enabling a partial arm.
A 10 second message can be pre-recorded on the alarm system for playback to the recipient of autodialed calls (when the alarm is activated). This is useful to ensure that people receiving the call know that that the telephone call is from your alarm system.
A feature we have been often asked for is a text to be sent to a number when the alarm was armed or disarmed, this is now available on the new Sentry Pro system. It is an option that you can turn on or off as and when you require it.
Another feature of this alarm is that you can select if you want the external siren to sound when you press a panic button.
This kit includes the following components
1 x GSM Control Panel
4 x Key Fob
4 x Door/Window Contact
4 x PIR
1 x Internal Siren
1 x External 12v External Strobe Siren
Additional extras
Wide angle PIR
Pet PIR
Door Contacts
Metal Remote Control Key Fobs
Smoke Detector
Wireless Key Pad
Standard External Siren
Solar Powered External Siren with strobe and flashing comfort light

If you require any further information or would like to see a copy of the user manual, please do not hesitate to get in touch.